Originally posted on RubberNew.com
By: Sam Cottrill – Rubber News Staff
COLORADO SPRINGS, Colo.—Whitney Luckett may have gotten her official start in the supply chain industry working with Cargill in 1984, but her love for logistics began at the age of 9, when she toured an auto parts manufacturing facility in the heavily industrialized Zug Island area of Detroit.
Seeing the creation of auto parts at that time, Luckett likened it to watching the skill of a high-level athlete.
"It just, to me, is mind-boggling," she said. "To walk in and see an auto factory and how it just moves along … and somebody's putting on the wheels, and somebody's putting on the hubcaps, and—I remember the painting way back then, too. I just love seeing things being created."
Seeing how everything clicked at the right time and the right place ignited her desire to understand the world around her.
"I think it's kind of cool," she said. "You have to look at the world, but you have to understand the world around you, too."
It is this kind of mindset that earned the founder and president of Simko North America L.L.C., a natural rubber and chemical supply chain and logistics company, recognition as the 2023 Exceptional Supplier of the Year from the Women's Business Enterprise Council-West.
WBEC-West, a regional partner of the Women's Business Enterprise National Council, implements certification standards for WBENC companies throughout Arizona, Colorado, Southern California, Utah, Wyoming, Nevada, Hawaii and Guam.
In early September, WBEC-West hosted its 20th annual Procurement Awards Conference in Tucson, Ariz., where SNA—a WBENC-certified Women Business Enterprise—received its honor.
To qualify for this award, a company must be a WBE that makes at least $50 million in annual sales and distinguish themselves through:
·  A substantial history as an established business;
·  Indicating continued growth through an increase in sales;
·  Demonstrating customer satisfaction;
·  Consistently providing high-quality products and/or services while offering innovative approaches and cost-saving ideas;
·  Evidence of civic and community contributions and major accomplishments within the past two years—including support of WBENC or WBEC-West; and
·  Helping grow and recognize other certified WBEs.
Luckett, who has more than 35 years of experience in supply chain management, is a second vice chair of WBEC-West's Colorado Forum, meaning she volunteers her time to represent her WBEC-West region and acts as a liaison between WBEs and WBEC-West locally and nationally, according to the organization's website.
Last year, SNA was proud to hit just over $60 million in sales—and is on track to do the same this year, Luckett said.
Last summer, Luckett and her husband, Marc, welcomed Yana Malyk and her two daughters Liza and Ulia, Ukrainian refugees, into their home by sponsoring them through President Biden's Uniting for Ukraine program.
By mid-December last year, Luckett and Malyk started the non-profit Ukraine Power to provide generators to war-torn regions of Ukraine.
"It's been a wild ride," Luckett said of the past year.
Yet, despite her and her company's accolades, Luckett said the WBEC-West honor was a surprise to her.
"I grew up in a very different time," she said of her career in the rubber industry. "The rubber industry has been a bastion of males.
"I just somehow gained the courage 10 years ago to go off on my own. And it was really only this company that I started in 2017 that has gone to (let me do) what I wanted to do with business," she said.
Receiving recognition as Exceptional Supplier of the Year, she said, still "overwhelms" her.
"Women who graduated in 1984, we didn't have seats at the table," she said, adding that she appreciates finding organizations like WBENC and WBEC-West that support and recognize women-owned businesses.
"I believe very much in what WBEC-West does."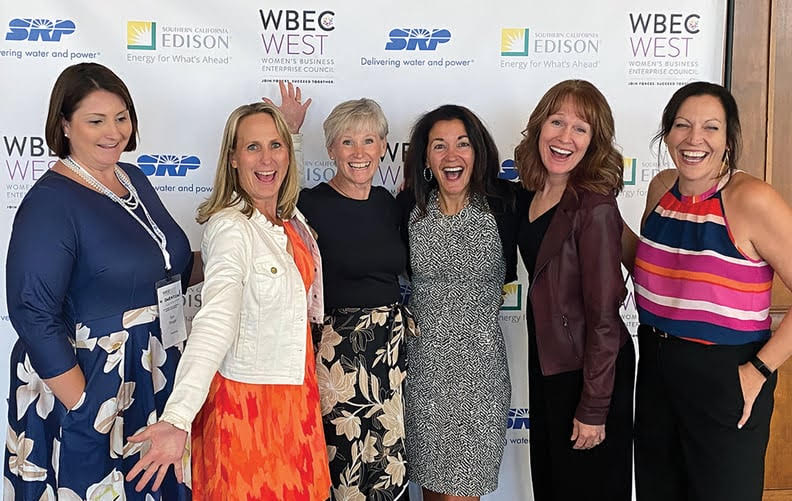 'I didn't own a thing'
Luckett worked with Cargill until 1988, when she began working in the rubber industry, "and has not looked back since," according to SNA's website. Along the way, Luckett said she worked for two natural rubber producers—until she found the courage to start her own companies.
About 10 years ago, Luckett made a 60-second pitch to a top Toyota executive. She knew the executive was from Japan, so she wanted to introduce herself and offer him her business card using Japanese etiquette by offering it with both hands as a show of respect.
"I'm holding the card in both hands and said, 'Hi, my name is Whitney Luckett,' and then he just puts his hand on my arm and stops me. And he said, 'Could you stop?'
"I got two seconds, and I barely got my name out," she said.
But he looked at her business card, she said, and he asked her if she owned the company she worked with at the time, later adding that he could help her if she owned at least 51 percent.
"I said, 'No, not all of it,' " she said with a laugh. "I didn't own a thing."
Luckett said the experience pushed her to start her own companies.
"I went in partnership with a company that I was working for. I opened up a small company where I owned 51 percent, and he owned 49 percent. And we started to build it," she said.
In 2013, Luckett founded New Continent Enterprises Inc., which was acquired by Halcyon Agri Corp. Ltd. in 2014. In 2016, she founded Southland Rubber Inc. in the U.S.
And in 2017, she started Simko North America.
Luckett owns 51 percent of the company. The other 49 percent is owned by her Argentina-based partner, Eduardo Simko.
Simko's father, Pablo Simko, started Simko S.A. in the 1950s as a rubber importer for Latin America.
The company continues under his son Eduardo, and the overall group has offices in Argentina, Brazil, Chile, Mexico, Brazil, the U.S., Canada, Germany and China.
Today, the North American unit comprises 12 women working in Colorado. The company works with three major tire makers, a number of mid-tier and automotive parts manufacturers and "has fingers" in the tape industry.
"We just have a good model," Luckett said, noting SNA has two types of businesses.
"One works very well with the major tire manufacturers, where they basically are in control and we are their partners. And then on the other side, with the smaller folks, we just are their full-service global supply chain partner."
As a WBENC-certified WBE, SNA can "help rubber manufacturers provide diversity spend to automotive and government entities," the company says on its website.
Luckett said the benefits of being WBE-certified are "invaluable," adding that it raises companies' profiles with access to training programs.
And since receiving the recognition as Exceptional Supplier of the Year, SNA has been approached by a "major auto company" for help with its EV supply chain.
Growing pains, netting gains
Luckett said the single biggest challenge SNA faced in the last year was the financial growing pains that came with nearly doubling its sales in 2022.
"We already had financing with a bank, but it was a smaller, mid-tier bank. And when one of the major tire companies dumped a big program on me, I didn't have enough banking," she said, noting she had to change banks to account for the growth.
"We went from $35 million to $60 million in 12 months. It was huge, huge growth."
But SNA's growth is represented by more than sales.
Luckett also has seen growth in the skill level of her team.
"We have standardized everything in the company, and I think that's building a stronger team," she said.
And in the last year, SNA has hired a new chief financial officer, who Luckett said has been "invaluable" in tightening up the company and helping Luckett prioritize her responsibilities as president.
"This is not all about me," she said. "This is about an incredible business that we're building here together. I just burst my buttons with pride."
Luckett said she's also proud to have a great team of women in the office who span multiple generations, that "cover each decade," which brings diverse minds together.
"We're not some staid, immovable corporation," she said. "We think differently, we are problem solvers, and in the world of logistics, that's huge—and we're more than logistics because we're also financing.
"We're not just going to move something from point A to point B for you. We're going to finance it. We're going to make sure that we are your just-in-case, so that you can be just-in-time to your consumers."
Sam Cottrill – Rubber News Staff