COLORADO SPRINGS—When Whitney Luckett, president and owner of Simko North America, and her husband Marc welcomed Ukrainian refugees into their home, she was just getting started on her mission to help the country's people.
Today, alongside Yana Malyk, a fellow businesswoman and Ukrainian refugee, Luckett is helping to bring power to the war-torn Luhansk oblast, or province, of Ukraine through their non-profit Ukraine Power.
On Feb. 24, 2022, Russia's President Vladimir Putin rattled the world with his unprovoked attack on Ukraine when he invaded Kyiv and Kharkiv.
One year later, Ukraine has suffered over $100 billion and counting worth of damages to its infrastructure across the country as well as the loss of thousands of civilian lives.
According to the Kyiv School of Economics, the total damages to Ukraine's infrastructure reached $108.3 billion by Aug. 2022. And as of Feb. 13 this year, the Office of the United Nations High Commissioner for Human Rights (OHCHR) has recorded 18,955 civilian casualties in the country, which includes 7,199 killed and 11,756 injured.
In the Donetsk and Luhansk oblasts alone, the Donbas region of Eastern Ukraine, these figures include 4,189 killed and 5,978 injured.
Today, Luhansk is without power about 90 percent of the time, according to Malyk's local sources, as it is on the frontlines of the war as the easternmost province of the country, just south of Kharkiv on the Russian border.
Millions of Ukrainians have fled the country seeking refuge across Europe, and thousands have come to the U.S.
And of those refugees who have come to the U.S., Malyk and her two daughters, Liza and Ulia, are three of them, aided by a rubber industry businesswoman and her husband who wanted to do more for the people of Ukraine.
Bringing power to Ukraine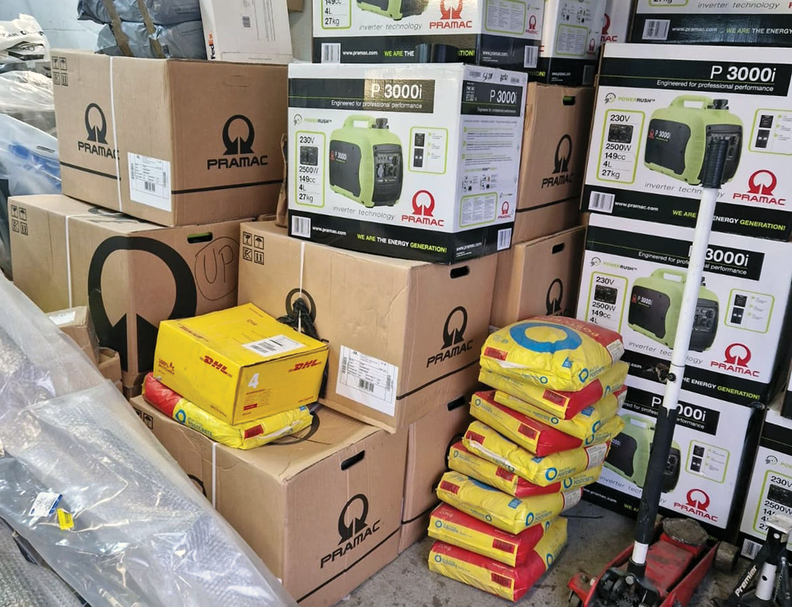 The Lucketts sponsor the Malyks, meaning they are financially responsible for them under President Biden's Uniting for Ukraine program.
"My husband and I wanted to do something more," Luckett told Rubber News. "We can volunteer at various organizations all over, but we just really wanted to make a difference in somebody's life."
Luckett said she heard about Biden's program from one of her friends, who was sponsoring a Ukrainian family who had fled to the U.S.
"I said, 'Well, heck, we can do that.' "
The Lucketts put their contact information on an online bulletin, where they came into contact with Malyk and her daughters.
And after weeks of correspondence from Lviv, and heavy government vetting, the Malyks flew into Colorado from Prague in July and have lived with the Lucketts in Colorado Springs since.
But when Putin switched tactics in the fall, sponsoring one family was no longer enough.
"When Putin changed his strategy in November to start destroying energy infrastructure, that crossed a line for me," Luckett said.
"War is a horrible thing," she said, adding that it should be kept within the military. "What they're doing now is just targeting civilians."
When Russia began attacking Ukraine's infrastructure, Luckett knew they needed to do more.
"I looked at Yana and I said, 'What do we do?' "
Malyk already had been helping other families through the Uniting for Ukraine process and its "extensive paperwork," Luckett said.
According to the Department of Homeland Security, Uniting for Ukraine is a "streamlined process to provide Ukrainian citizens who have fled Russia's unprovoked war of aggression opportunities to come to the United States."
The program involves filling out a Form I-134 for background information on both the sponsor and beneficiary, and further vetting by the U.S. government "to protect against exploitation and abuse."
"It's an incredibly in-depth program," Luckett said, noting she had to disclose all of her and Malyk's assets and prove she could financially support the family.
And while this has helped several families come to the U.S. and find sponsorships, Luckett and Malyk knew they needed to help the people of Ukraine more directly, especially as colder climates were closing in and people would be without power in the harsh winters of Ukraine.
"(Yana) said, 'Maybe we can save more lives if we could take generators to Ukraine,' " Luckett said.
Malyk lived most of her life in Svatovo, Luhansk, so she knows the region well.
She has her master's in finance and governmental administration, and before the war, she ran seven businesses, including a women's clinic, several stores and a travel agency, among others.
And she is no stranger to resisting Russian aggression.
In 2014, she was a special deputy to the Luhansk governor at the time, and helped bring Ukrainians back to the region and provide food and support during the Russian annexation of Crimea.
For this, she received a medal of honor from the government for her service to Ukraine—as well as her name on a list with the Russian government.
Marc Luckett said Malyk's involvement in the 2014 annexation was a big part of why she and her family had to flee Ukraine following the invasion last year.
But due to her involvement with the Ukrainian government, Malyk also has maintained connections with regional government officials and is able to find out what the region needs most.
"When I asked Alexiy (Smirnov), who is the first deputy governor of Luhansk, 'What do you need,' he told me generators, stuff for electricity, … heaters, power banks," Malyk told Rubber News.
Luckett is no stranger to the global supply chain as the owner of a $60 million international industrial natural rubber and chemical supply chain and logistics company. So finding these necessary supplies and getting them where they need to go was right in her wheelhouse.
"Everything in life is relationships," Whitney said. "My supply chain business has come together with Yana's local resourcefulness."
And in record time, the nonprofit Ukraine Power was born with Malyk as executive director and Luckett as president.
On Nov. 16, 2022, Luckett and Malyk filed the paperwork to start Ukraine Power with the mission to provide generators and heaters to the people of Luhansk.
And within weeks, Ukraine Power was approved as a U.S. tax exempt 501(c)(3) non-profit by mid-December.
"My lawyer said he's never seen anything come through that quickly," Luckett said.
They started raising funds on Dec. 4, and by Dec. 15 they had delivered the first 15 generators.
Within its first 45 days, Ukraine Power raised almost $70,000 and delivered 45 1,000- to 3,000-kW generators; one 5,000-kW generator; 60 electric heaters; 70 gas heaters; and 70 27-liter propane tanks to regional leaders of Luhansk for use by civilians and military personnel.
And on Feb. 3, Marc Luckett, who is the treasurer of Ukraine Power, updated the non-profit website to announce that they had purchased two more generators, 72 rechargeable lamps, 40 propane cook stoves and propane tanks, 40 large power bank batteries, 30 Wi-Fi hotspots, more heaters, more propane, and one portable projector.
Prior to becoming treasurer of the non-profit, Marc had worked as an international banker for 35 years, working in commodity finance on Wall Street and other smaller firms.
"The moment (Yana's) feet touched the ground here in Colorado, she was still helping people in Ukraine, helping people with getting supplies, helping people get to America," he said.
And this has only continued with the non-profit. He said Malyk is up nightly talking with Ukrainian government officials, like Smirnov, to make sure the country is getting the help it needs.
"She doesn't sleep," he said.
With the assistance from Ukraine Power, Luhansk has set up "warming hubs" where citizens can gather to escape the cold, cook, charge their devices and get access to Wi-Fi.
"All these areas that had been under Russian occupation until very recently were not able to communicate with anyone because the Russians were controlling the cell communication, the internet. And so, people were not able to talk to their families out of and in Ukraine," Marc Luckett said.
Even the Malyks have been unable to reach family in Ukraine for extended periods of time because of this.
"Through the work that Yana has begun, we're able to help all these people from the Luhansk region survive this winter, which is just brutal," he said.
What's next?
Currently, Ukraine Power remains focused on providing heat and energy to Luhansk as it gets through the winter. But the Lucketts and Malyk are planning ahead.
"Ukraine Power is here for the long haul," Whitney Luckett said. "At this point, we're talking about trying to come back from a war. We are definitely in it for the long haul, for whatever the people of the Luhansk region need to hopefully—eventually—rebuild infrastructure and try to get some sort of semblance of normalcy back."
They've discussed supporting families that have adopted orphans who have been displaced due to the war, as some families are taking in anywhere from 10 to 15 children.
"That's putting a huge strain on families that are already living in war zones," Luckett said. "Russia is bombing as far west as Lviv."
"Our focus will be on making sure that those homes have everything that they need … to help these kids," Marc Luckett said.
And in addition to aiding the country in its reconstruction, he said Malyk already has begun reaching out to organizations to support wounded veterans following the war.
Good times at 'Casa de Luckett'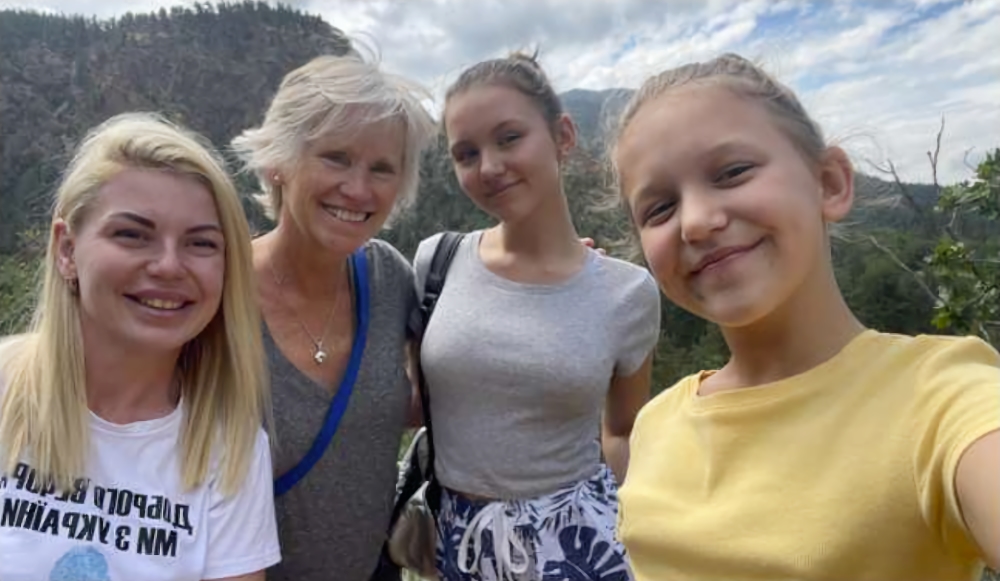 Luckett says having the Malyks in her home has been an "amazing" experience.
And being a mother of two daughters herself, she said having Ulia and Liza in the house is like having grandkids.
And while dealing with the war has its highs and lows, overall spirits remain high in the household.
"It's truly epic. I have three people living in my house that have lost everything," she said, noting they have lost friends and family to the war and often go weeks without hearing from others. "But I can tell you that there is not a day that goes by at 'Casa de Luckett' that somebody's not laughing hysterically.
"These kids have been scarred beyond belief from what they've seen, from what they've experienced," she said. "It's an emotional roller coaster, but I'm really proud of Yana and her girls."
And the girls have adjusted well since coming to Colorado Springs, Marc Luckett said.
"Ulia is a happy sixth-grader," he said, adding that she's had her share of sleepovers and had a laser-tag party planned for her 12th birthday. And Liza is a straight-A student taking Advanced Placement classes in high school.
"We are very lucky," Malyk said of finding the Lucketts to sponsor her and her daughters. "It's like a second family."
Marc is trying to learn Ukrainian, which has garnered its fair share of laughs in the household, Whitney Luckett said.
"(The girls) actually call him Babusia Marc, which means Grandmother Marc, because he does all the cooking," she said.
But most of all, Luckett said living with Malyk and her daughters has opened her eyes to Ukraine's strength.
"It's allowed me to see what I think Putin hates about the Ukrainians," she said. "They have this power of resilience that is the thing sagas are written out of."
Sam Cottrill,
Rubber News